Wall Moulding & Wall Frames – Ideas and Information
Wall mouldings are a staple of many decorators, especially those who work on traditional, neoclassical, and Victorian styles. Mouldings can come in all shapes and sizes, and are used anywhere from the ceiling to the baseboard to help create a full and outlined look. They accentuate the natural lines and curves of a house, making them an excellent tool in the hands of a skilled decorator. Without basic trim, a room might look overly exposed and unfinished. That's why wall moulding is a super important element in many homes.
Moulding Materials
Mouldings are traditionally made from three basic materials. These are wood mouldings, gypsum mouldings, and MDF mouldings. Each of these materials has their own unique qualities, along with different pros and cons. For example, gypsum, commonly known as plaster, is considered a high end classical material that has been used for many centuries across the world. While its looks are considered a benefit, there are many structural drawbacks to plaster. Some of these include being prone to cracking, being extremely heavy, and lack of design options due to the difficult casting process. Plaster's rough and grainy texture makes it difficult to custom paint, which is why most gypsum moulding suppliers stick to one or two basic colours.
Wood and MDF are also considered standard materials for wall moulding. They are both relatively cheap and lightweight options. They have more options available for creative designs and painting than plaster. These moulds are most commonly found in plain crown mouldings and baseboards installed in newly built homes. The cons of wood and MDF are that they can bend and warp over time because of temperature changes, which causes stretching and shrinking.
One new material that has entered the market is called polyurethane, which is basically a lightweight and highly dense foam. This material came in to address each of the issues of the traditional materials. It is highly versatile, and that's why it is the preferred material of the designers here at Lux Trim. High density polyurethane is the most lightweight option, while also being more durable than wood and MDF in its resistance to bending and warping. It is also more affordable than all three options, while having the benefit of being highly customizable. We carry thousands of designs, with an unlimited option of custom painting and texturing – all of which is only possible because we choose to use polyurethane. This amazing material is slowly becoming a preferred choice for many decorators around the world.
Wall Framing Ideas
Let's take a look at some wall framing ideas from a combination of Lux Trim's work and other designers to give you some inspiration!
Chair rail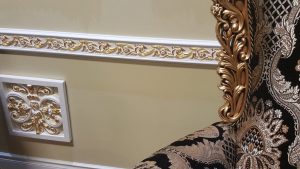 Wainscoting
Wall Frames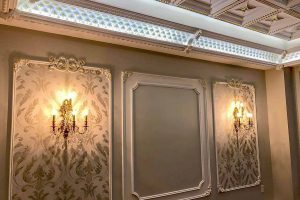 Feeling inspired? Head over to our wall decoration page to learn about the Lux Trim way of doing wall decoration.