Let's take a look at 10 unique ways to style your home with ornamental mouldings!
1. Decorative crown moulding
The first thing to come to mind when thinking about mouldings is usually the cornice. While there are hundreds of designs on the market for crown moulding, some are more popular than others. You may have heard of Dentil, Egg and Dart, Victorian, or Georgian designs to name a couple. However, designs are not limited to these few. As you can see in the following photos, larger and heavier designs often incorporate combinations of the popular designs. Cornices like these work well on their own, and even better when paired with a chair rail, wainscoting, or some decorative furniture.
2. Door Frame Trim
Trim around doors and entryways is a growing trend. Although many people choose to use simple designs for their frames, ornate designs can be also very effective. For example, pilasters and pediments can be used to bring a rich, Roman feel for a room. If you are looking for something more simple, plain trim with corner blocks may work for you. Overall, trimming around doors can make a room feel more lavish and sophisticated.
3. Decorative Wall Panels
Wall panels come in all shapes and sizes, with styles ranging from traditional to super-modern. Panels made from ornamental mouldings more closely resemble traditional styles. Wall panels work best when they are repeated to make a pattern. The following photo shows how repeating panels can form a structure for your room.
4. Wall Frame Compositions
Wall frame compositions can add richness to a room and fill up some emptiness on the wall that might be bothering you. There are many ways that these displays can be done. One popular way is to use different tones of paint layered with decorative trims. It is also common to use wallpaper inside the frame to create a beautiful display.
5. Picture Frames
One creative way to use ornamental trims is to build picture frames with them. Instructable's article on making a frame from crown moulding by Iris Gottlieb is an excellent resource for those who want to do it yourself. Cutting corners may be a bit tricky to do on your own, but the end result is totally worth it.
6. Ceiling Decor
The art of decorating ceilings is always one that requires creativity. A ceiling is like a canvas for a painter – there are endless possibilities. Decorative moulding is great for creating beautiful compositions. At Lux Trim, we like to use a combination of different materials and designs for our ceilings. Here is an example of what can be done with moulding and other materials.
7. Ornate Chair Rail
Chair rail trims play an important role in setting the proportions in a room. These elements, which are meant to line up with the frame of a chair, can also be decorated to stand out. This can create a pretty awesome effect. Here is a photo of char rail trims made from ornamental mouldings we have used at Lux Trim.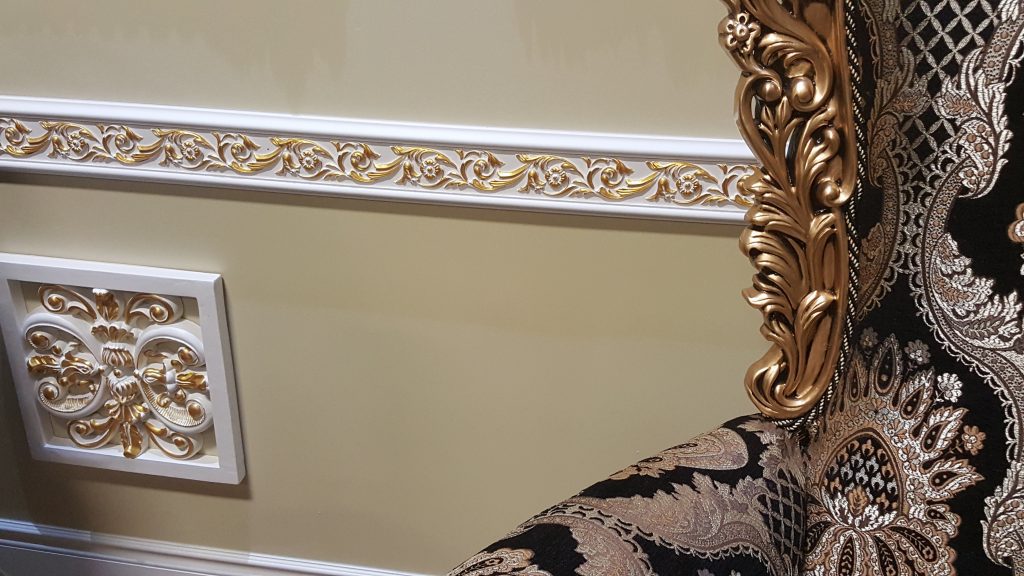 8. Delicate Intricate Pieces
Popularized in the rococo style, many decorators like to add tiny, details to their moulds to decorate the ceilings and walls of a room. Although not so common anymore, these details still appear in Parisian apartment styles and sometimes in neoclassical decoration. This lacy look adds a romantic richness to any room. Here is a look by designer
9. Columns and Pilasters
Columns and pilasters don't always have to be plain and boring support structures. When paired with white marble floors, these pieces can look outstanding. Consider these pieces when planning your next luxury project.
10. Fireplace Mantels
Fireplace mantels are thick frames built around a fireplace, generally made from brick or stone. The most common designs for these pieces can be described as simple, yet elegant. However, more ornate displays, such as this Parisian Classic from Mantels Direct can be a perfect centerpiece for a room. Although mantels are not a "moulding" in the traditional sense, we'd say they fit in the same category and therefore make our list.