After analyzing the biggest home decor trends for 2017, we decided to come up with 24 luxury home decor ideas. Whether you're a designer or a regular home owner, feel free to give some of these a try.
1. Metallic wall panels
Inspired by industrial design, many decorators are beginning to incorporate exterior materials, such as metal into interior design. These metallic wall panels are a stunning display.
`
2. Glossy Lacquered Finishes
Lacquered finishes are a growing trend in luxury home décor. They add glamourous shine to a room and should be used with a lot of lighting to create that reflective look.
3. Matte finished countertops
On the other hand, you can choose a matte finish that does not reflect light. Matte finishes create a sleek and modern feel.
4. Creative LED lighting
Hidden LEDs are a big trend in luxury home decor. When used right, they can create a romantic atmosphere and add some mood.
5. Decorative Wrought iron railings
Wrought iron rails with intricate designs are sure to enrich your home. Add some gold leaf finishes to take it to the next level.
6. Artistic Fixtures
If you're feeling creative, consider looking for unique fixtures to match the feel of your room. This ceiling fan resembles both a butterfly and flower petals, perfectly working into the nature-inspired design of the room.
7. Bathroom Stone Tiles
Stone tiles for bathroom walls are becoming very popular. When used in the shower, these tiles can make a luxurious addition.
8. Coffered Wall Design
With coffered ceilings making their way into many homes, designers can take inspiration from this and apply this design to wooden walls and doors.
9. Contrasting Drapery
Accent tones can be added to a white room to add some contrast. The result is a clean and organized looking space.
10. Decorative Accent Wallpaper
Bold wallpaper is in for 2017, and accent walls are just one of many ways to use this feature. The following photo shows a good example of accent wallpaper in a modern setting.
11. Flora with Natural Light
If you have plenty of natural light coming through, it might be a great idea to add some indoor plants. This combination creates a clean and fresh atmosphere.
12. Full Height Fireplace
Full-height fireplaces are a nice alternative to the classic setup. They work especially well for rooms with tall ceilings to make the room feel bigger.
13. Green Floral Design
Many designers agree that green is back in for 2017. Green accents and floral wallpaper might be just what you need to get that natural vibe.
14. Industrial Design Ceiling Fixtures
With the industrial style being one of the most popular in the last few years, decorators can incorporate some elements into their own projects. Here is an example of industrial ceiling fixtures being used with contemporary furniture.
15. LED Tray Ceiling
The LED lit tray ceiling is perfect for adding a modern feel to a traditional or transitional home. It can be found in restaurants, hotels, and homes around the world.
16. Metallic Countertops
Countertops with a metallic sheen work very well with a kitchen that centres around stainless steel. The following photo is a good example.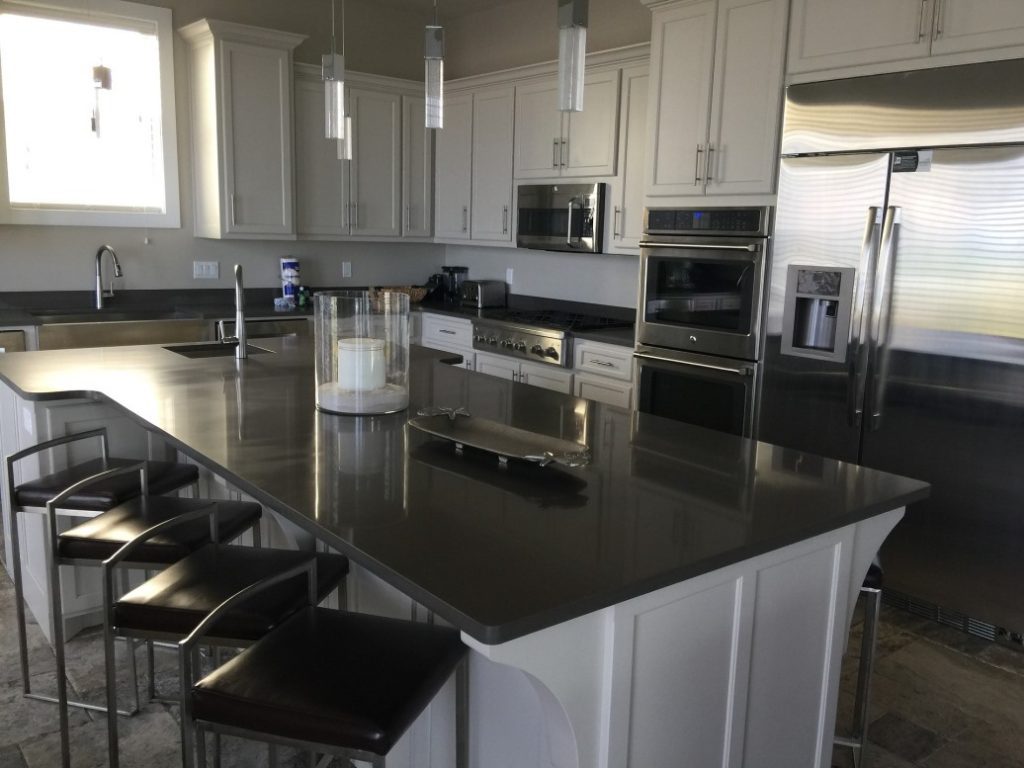 17. Minimalist Tray Ceilings
Even in minimalist homes, tray ceilings can also be impactful. Here's an example of a simple tray that adds depth to a plain ceiling.
18. Stainless Steel Tubs
Freestanding tubs are one of the biggest luxury home decor trends in 2017. One idea to add to these tubs is a stainless-steel finish, creating an industrial style feel.
19. Stone Accent Wall
With exterior materials finding their way into the interiors of homes, stone accent walls is the perfect way to piggy-back on this trend and create something spectacular.
20. Stone Basement Walls
Why stop at accent walls? Some decorators are beginning to fully decorate basement walls with stones tiles. Interesting, isn't it?
21. Textured Furniture
Textured furniture is a huge trend for 2017. Picking highly textured materials for furniture makes it stand out more and contrast with the room's backdrop. Statum Design's article on Texture is a useful resource for picking the right fabrics for your home.
22. Textured Wall Niches
Combining two big trends often leads to fascinating results. LED-lit niches and textured materials can be used together to create a beautiful look in an office.
23. Transparent Furniture and Decor
Transparent, glass or mirrored décor makes a great addition to industrial and modern style rooms.
24. Velvet Decorative Furniture
Velvet is another big trend for luxury home décor in 2017. Dark coloured velvet works perfectly when paired with luxurious decorative furniture.