Ceiling Tiles – Ideas and Inspiration
Ceiling tiles are an excellent bang-for-your-buck option for decorating your ceiling. They're a pretty simple way of covering parts of your ceiling, or the entire thing, depending on the look you are going for. Ceiling tiles can come in many different styles, and can be made from various materials. Some popular materials include wood, metal, styrofoam, tin and faux tin. At Lux Trim, we choose to use polyurethane for its structural benefits. For more information on our HDPU material, check out our post about moulding.
Tiles can be used to make all kinds of ceiling designs. Whether you prefer a simple modern ceiling or a luxurious neoclassical display, our team has a ton of options for you. Now we'll take a look at some of these options, which includes flat tiles, coffered tiles, and hollow patterned designs.
Flat Tiles
We have over 15 unique options for square flat tiles for your ceiling. Generally, we stick to 2×2 feet sized tiles, but we also carry smaller and larger pieces. One huge benefit to using our flat tiles is that they only take up less than two centimeters of height from your ceiling. For houses with 8 foot ceilings, this can be a life saver. Many people find it extremely difficult to decorate a low ceiling without making the room feel claustrophobic. With our flat tiles, you can have a fully decorated ceiling and still have plenty of room above your head. We also love using our flat tiles for bigger and more complicated compositions, like in our drop ceiling displays. We carry many different colours and designs, ranging from plain white to tin, copper, and antique silver looks which can add an awesome metallic effect.
Coffered Ceiling Tiles
Our coffered ceiling tiles, also known as suspended ceiling tiles are a great piece to consider if you're looking to add some depth to your ceiling at an affordable cost. Traditionally, coffered ceilings require a special suspended grid to be built, which can be very expensive and take a ton of time. Our coffered tiles give you the exact same effect at a fraction of the cost and time. Our installers are very quick and efficient, usually finishing entire projects within two weeks. Building a ceiling similar to the following examples would take our team less than two days.
Patterned Ceiling Tiles
If you are looking for something very light to add a subtle effect to your ceiling, you might want to consider our patterned tiles. These hollow designs are lightweight and delicate, and are very popular among our clients who prefer a more contemporary, minimalistic design. Our pieces range from sharp, geometric patterns to fluffy, cloud or flower designs. Check out these elegant patterns and see for yourself!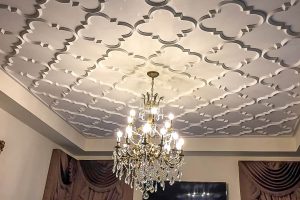 Feeling inspired? Head over to our Ceiling design page to learn about the Lux Trim way of doing wall decor. For more of our projects, check out our Lux Trim Projects page on Houzz, or for more inspiration check out our Ceiling tiles Ideabook.