Let's take a look at 10 fun ceiling decor ideas to turn a boring ceiling into a centrepiece for your room!
1. Tray Ceiling with LED
One of the most popular ceiling trends of this decade is the tray ceiling garnished with LED light strips around the edges. This design can be found everywhere from hotels, restaurants, and of course in residential homes as well. It's a clean and simple way to turn an empty ceiling into something more exciting.
2. Beamed Ceiling Island
Ceiling beams can be used for many different designs. One that is becoming more popular, especially for kitchen areas is building beams directly above the kitchen island. This structure can be plain or decorative, and usually showcases light fixtures. It's an elegant addition to any home, if you feel a little bored with the plain ceiling you have.
3. Coffered Ceiling
Let's take a look at one of the traditional ceiling decor ideas. Coffered ceilings are made with crisscrossing beams to form a pattern of squares on the ceiling. The beams can be done in the same colour as the ceiling, or in a different colour for a more contrasting look.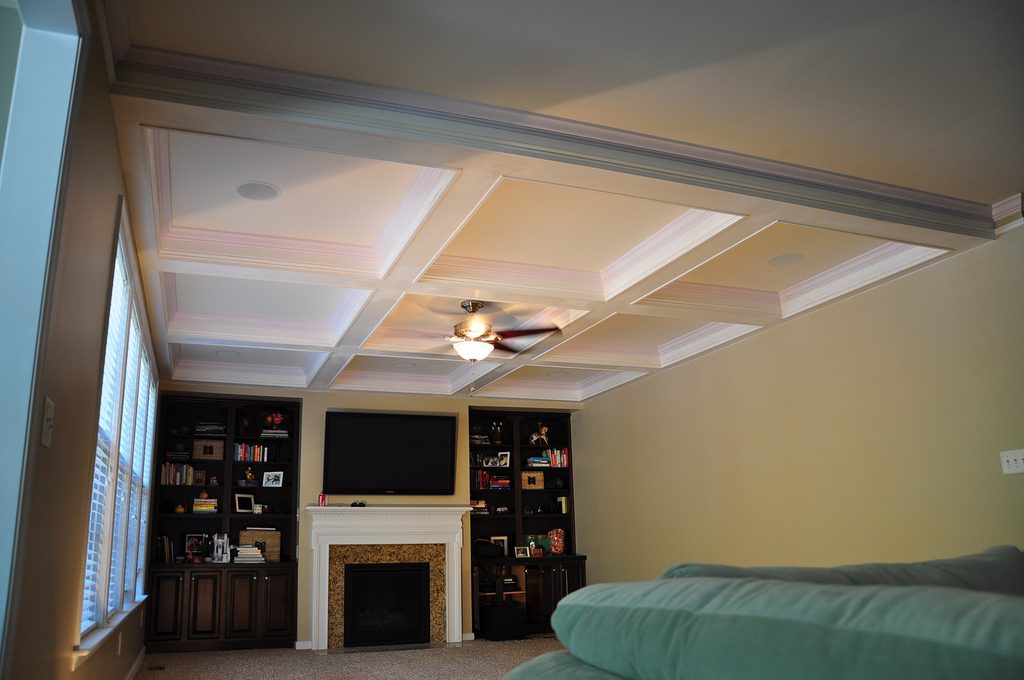 4. Multi-leveled Ceiling
If a single-leveled tray ceiling isn't enough for you, it's possible to go all out with a multi-level decorative ceiling. Add some custom painting, LED, and a beautiful centerpiece medallion to complete the look. This is our specialty at Lux Trim, when it comes to ornamental ceiling decor.
5. Skylight decor
Skylights are usually an underserved area of the home. The awkward shapes and angles of a skylight make it very difficult to decorate. But so often, people feel like this area is too empty and boring. It takes some creativity to design the perfect skylight décor. Decorative moulding, wallpaper, and mosaic tiles are fantastic materials for this.
6. Ornate Ceiling Tiles
If you want the most ornate design for your ceiling, these tiles are for you. At Lux Trim, we have a wide array of 2 feet by 2 feet tiles that are perfect as a ceiling decoration. Paired with a tray ceiling and some LED light strips, we can create a spectacular display for your room that will have people saying 'wow!' every time.
7. Tiled Waffle Ceiling
Inspired by the traditional beamed waffle ceiling, many moulding manufacturers are turning to ceiling tiles with depth. These tiles create the illusion of a waffle ceiling, with a much fancier feel. Not only are they cost effective, but they can come in many different styles, making them an excellent ceiling accessory.
8. Light Patterned Ceiling
Even for contemporary looks, decorators are starting to consider ceiling decor. That's why soft pattered ceiling tiles are making their way into many homes. These tiles usually come in white, as to not create too much contrast. Here are a couple examples of patterns that are gaining popularity.
9. Decorative LED Plexiglass
One interesting trend in ceiling decor is the use of large LED plexiglass panels. These decorative pieces carry a beautiful mural, backlit with LED. Plexiglass panels work very well for large rooms and tall ceilings. Here is a photo from one of Magic Panels' projects as an example.
10. Ceiling Mural
Murals are beautiful artistic pieces that made their way onto the walls and ceilings of important buildings throughout history. Now usually featured in expensive houses, these paintings showcase meaningful images and scenes. They make a perfect addition to large, decorative ceilings.
Feeling inspired? Head over to our ceiling design page to learn about the Lux Trim way of creating spectacular ceilings. For more of our projects, check out our Lux Trim Projects page on Houzz, or for more inspiration check out our ceiling decor ideas ideabook.