Accent Walls – Ideas for your home

An accent wall, in the most basic sense is a wall that stands out from the other walls in a room. Why would you want that? Well for starters, its aesthetically pleasing way to catch the eyes of the people in the room. There are basically endless ways to make an accent wall; whether its paint, wallpaper, tiling, moulding, paneling, or other decorations. In this article, we'll touch on some of the ways our designers at Lux Trim have used accent walls in a stunning way.


The Wallpaper Accent Wall

Wallpaper is a simple yet effective way to make a wall stand out. It adds contrast and a touch of flavour against the plain walls surrounding it. A great way to make these accent wallpapers work is to pair them with furniture or accessories of a similar style or texture. You can add some eye-catching bits of colour to your room that will complete the overall design. Experimenting with colour palette is key when styling your house in this fashion.


Accent Wall Ideas

Over the years, our team at Lux Trim has went over countless accent wall ideas to present the best options to our clients. Some creative displays we still use to this day include the 12-tile flower composition, our heavy ornate wall panels, our simple frame and wallpaper displays, and many more elements. We'll cover each of these feature wall ideas by analyzing them room by room.

Bedroom Accent Walls

The bedroom is where you spend almost half of your life! So why not give it some extra spice? Wallpaper is an easy go-to option to cover up a wall without going overboard. But for others, we like to go the extra mile and build a full composition to make their bedroom feel like a palace. Check out this Roman classic inspired bedroom design featured in our showroom.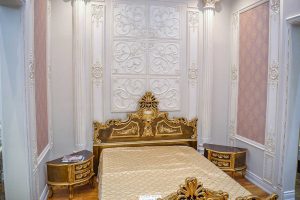 Living Room Accent Walls

In the living room, we have plenty of space to give the room some character. If you have long, empty walls to cover, we have some great options for you. Our custom painted wall panelling adds an effect of sophistication and luxury that you can only find in Victorian architecture. Combined with wallpaper and accessories, these lovely panels fill up a room like no other. Other ornate accent pieces include our LED-backlit wall niches that add a coolness or warmness to the room, depending on the colour of the lights that are used.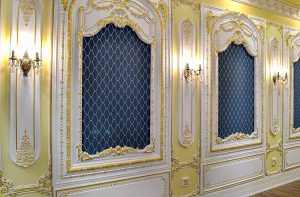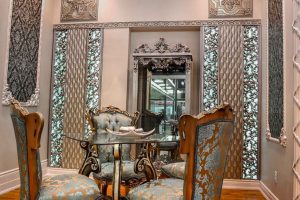 Bathroom Accent Walls

The bathroom is where we love to add some sparkle. Our crystal mosaic tiles add a beautiful, luxurious touch to the glass, stainless steel, and porcelain features of the bathroom. One of our favourite uses of these tiles is in conjunction with wallpaper and our trims. Take a look at these stunning displays!




Feeling inspired? Head over to our wall decoration page to learn about the Lux Trim way of doing wall decor. For more of our projects, check out our Lux Trim Projects page on Houzz, or for more inspiration check out our Accent Wall Ideabook.